Arta Jēkabsone's ongoing projects
Arta Jēkabsone 3rd original music project will be announced soon… Stay Tuned…
Concert Program " Starp Diviem Likteņa Smējieniem"
Concert Program "Starp Diviem Likteņa Smējieniem"(Between two laughs of the fate).Composer Anna Veismane's composed songs after 20 years are experiencing their revival in new sounds by Latvian Jazz Musicians – Arta Jēkabsone, Krists Saržants, Jānis Rubiks & Rūdolfs Dankfelds. Music is based on various Latvian poets like Ojārs Vācietis, Māris Čaklais, Māra Zālīte, Andris Akmentiņš, that talks about existential questions, personality development, transformation collisions, joy, freedom, rain, and sun.
Reflections
"Reflections"  is the most recent Jēkabsone's original music that features jazz quartet/quintet and string quartet.  Arta's musical horizons start with simple Latvian folk song melodies, harmonies and structures and can reach to something more complex, more toward the world of improvisation. My suite. Reflections will embody this statement. As Jekabsone describes–"This music will be self– exploration, my inner world's reflections – what does a blooming flower mean to me, what is my wind song?!  Every single song will have multiple meanings. Hopefully, this self-discovery will lead people to search for their own meanings and interpretations.  I define myself as a part of the music and vibrant color in the broad musical pallet. Who are you, my friend?"  This concert was nominated for " Annual Concert  2019″ in Latvia.
Hear the live performance here…
 Fairytale "Aisma"  by Edgars Cīrulis
AISMA is an international ensemble of musicians performing a through-composed suite, based on a narrative. The music is vivid, full of splashes of color, pulsating micro rhythms and melodies, it exists in a very unique line between composition and improvisation, where the main focus is not on the individual, but the collective.
Listen to music and support the music here…
Elephant Hill
Elephant Hill is an NYC-based band whose main focus is creating original jazz music with a strong influence on each band member's roots (Israel, Latvia, and Argentina).  Band members are Arta Jēkabsone – Voice,  Asaf Harris – Saxophone, Stav Goldberg – Piano, Belén López – Contrabass Shai Yuval – Drums.
Arta Jēkabsone & Erik Leuthauser " Yesterday Still Lies Between The Floorboards"
Two voices, nothing more. Songs in English and the universal language of music: Own compositions, soundscapes, improvised, electronic, harmonic, voluptuous… In search of the inner selves of two young singers. Somewhere between New York, Berlin, Latvia, and Finland. Nothing distracts from the beauty of two voices that really have something to say! Inspired by musicians like Meredith Monk, Jenny Hval or Nils Frahm. Arta Jēkabsone and Erik Leuthäuser created a musical duo-concept that deals with the opposites "light" and "darkness" from every angle possible. This due still keeps collaborating and creating new duo music together. Their debut album "Yesterday Still Lies Between The Floorboards"  is available here since October 5th, 2018!
Listen to their live performance here…
Arta Jēkabsone debut  concert program  "Light"
"Light" holds the vibration of light as a feeling and each person's inner light. It is Arta's thought process and inspiration that has been captured together with young, talented and in the NYC jazz scene actively working musicians. Arta considers these musicians as her NYC family – piano Theo Walentiny, bass Nick Dunston, guitar Lucas Kadish, drums Connor Parks. The main message is "light" as a means of expression in music and in nature that is very dear to Arta.  Also "light" is used as a metaphor for human beings and their energy, that they share with the world; dreams; and also, homesickness.  The purpose of this music is to find the light within each other while being a part of this musical journey.  Then the ability to share the light with each other. To live in a moment, while listening to the lightness and the stories that the musicians are creating and sharing with each other.
Recent CD project releases featuring Arta Jēkabsone :
Kenta Shimakawa's debut album "Glimpse" as a leader, featuring an aggressive and colorful blend of metal and jazz performed by a cast of musicians from around the world.  Arta Jēkabsone is featured on the Dunuyeah Pt.1 & Dunuyeah Pt.2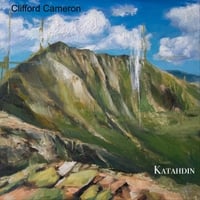 Clifford Cameron's debut album " Katahdin" is Narrative driven, through-composed and improvised chamber music, influenced by Jazz, Folk, Celtic and Classical music, performed by a group of young professional New York-based musicians.