Arta Jēkabsone's ongoing projects
Searching For A Song
Searching For a Song is a
timeless adventure in music. Arta Jēkabsone's music transports the
listener into her music world, where inspiration, self-growth, stories of joy, silence, nature, love, and light and healing can be found. Through this project, Arta continues to stretch the boundaries of convention with songs that draw influences from jazz, classical, and Latvian folk music. In addition, she tells stories through words and melodies that reveal her insights into existential questions of life in her own abstract and deep manner. The purpose of these nine songs is to create music that would lift one's spirits during these trying times. To embark on this journey, a large jazz ensemble featuring some of the most talented, soulful, and creative musicians joins forces with Arta Jēkabsone.  Searching For a Song was composed as a part of the " The Jazz Gallery  Comission Residency 2021/2022″ award
As Arta says, a song is more than a song; it is a story of life, heartbeat, reflection, and
expression… It is a story of one's soul's freedom and love.
Hear the live performance here…
Ilona's Kudiņa's BALTIC TRANSIT
Latvian-American flute player Ilona Kudiņa's BALTIC TRANSIT is the result of Ilona's creative collaboration with accomplished Latvian jazz pianist Viktors Ritovs, jazz vocalist Arta Jēkabsone, drummer Artis Orubs and Grammy-winning Peruvian-American bassist Oscar Stagnaro. BALTIC TRANSIT's world-fusion compositions draw from Latvian folk music, Latin-American rhythms, and Ilona's voyage through flute sounds, creating a unique synthesis of ideas.
Baltic Transit is available here…
Hear the music video click here…
Samir LanGus Band
Samir LanGus is a Grammy-nominated musician, born and raised in the city of Agadir, Morocco.Music has always been a part of the constant variety of street sounds of his city, from merchants to entertainers and calls to prayer.  LanGus makes great use of this traditional repertoire and adds his own, contemporary spin with additional jazz instrumentation. Taken as a whole, this exciting new artist fuses a centuries-old North African tradition with the pulse and attitude of New York City now. Although the Samir LanGus Band is a relatively new project, it has already performed at festivals such as BRIC Celebrate Brooklyn Festival and Winter Jazz Fest, and has been often invited to perform at notable NYC venues such as NUBLU, Bar Lunatico, among others. Alongside her musical partner in crime Carolina Mama, Jēkabsone has been singing backup vocals in this project.
Hear the live performance here…
Letters to Home
Letters to Home is a multidisciplinary, bilingual concert performance that combines the elements of music, video projections, and storytelling. These stories conveyed through Jēkabsone's original music are based on letters that Latvian people have sent to each other across time. Each letter reveals insights into life as an immigrant, broken families, love and friendship, and ultimately, a sense of belonging.
Hear the live performance here…
Carolina Mama
Carolina blends an intimate singing style with masterful storytelling, integrating the heart of different cultures. She's currently working on her first solo album, developing new musical material through her original compositions with influences from South American, Mexican, Moroccan and Cape Verdean folk music, plus the distinctive sounds of New York. This music speaks about women, oppression and hope for change. Arta Jēkabsone joins her band as a backup vocalist and occasionally as a violinist.
Concert Program " Starp Diviem Likteņa Smējieniem"
Concert Program "Starp Diviem Likteņa Smējieniem"(Between two laughs of the fate).Composer Anna Veismane's composed songs after 20 years are experiencing their revival in new sounds by Latvian Jazz Musicians – Arta Jēkabsone, Krists Saržants, Jānis Rubiks & Rūdolfs Dankfelds. Music is based on various Latvian poets like Ojārs Vācietis, Māris Čaklais, Māra Zālīte, Andris Akmentiņš, that talks about existential questions, personality development, transformation collisions, joy, freedom, rain, and sun.
Reflections
"Reflections"  is the most recent Jēkabsone's original music that features jazz quartet/quintet and string quartet.  Arta's musical horizons start with simple Latvian folk song melodies, harmonies and structures and can reach to something more complex, more toward the world of improvisation. My suite. Reflections will embody this statement. As Jekabsone describes–"This music will be self– exploration, my inner world's reflections – what does a blooming flower mean to me, what is my wind song?!  Every single song will have multiple meanings. Hopefully, this self-discovery will lead people to search for their own meanings and interpretations.  I define myself as a part of the music and vibrant color in the broad musical pallet. Who are you, my friend?"  This concert was nominated for " Annual Concert  2019″ in Latvia.
Hear the live performance here…
 Fairytale "Aisma"  by Edgars Cīrulis
AISMA is an international ensemble of musicians performing a through-composed suite, based on a narrative. The music is vivid, full of splashes of color, pulsating micro rhythms and melodies, it exists in a very unique line between composition and improvisation, where the main focus is not on the individual, but the collective.
Listen to music and support the music here…
Elephant Hill
Elephant Hill is an NYC-based band whose main focus is creating original jazz music with a strong influence on each band member's roots (Israel, Latvia, and Argentina).  Band members are Arta Jēkabsone – Voice,  Asaf Harris – Saxophone, Stav Goldberg – Piano, Belén López – Contrabass Shai Yuval – Drums.
Arta Jēkabsone & Erik Leuthauser " Yesterday Still Lies Between The Floorboards"
Two voices, nothing more. Songs in English and the universal language of music: Own compositions, soundscapes, improvised, electronic, harmonic, voluptuous… In search of the inner selves of two young singers. Somewhere between New York, Berlin, Latvia, and Finland. Nothing distracts from the beauty of two voices that really have something to say! Inspired by musicians like Meredith Monk, Jenny Hval or Nils Frahm. Arta Jēkabsone and Erik Leuthäuser created a musical duo-concept that deals with the opposites "light" and "darkness" from every angle possible. This due still keeps collaborating and creating new duo music together. Their debut album "Yesterday Still Lies Between The Floorboards"  is available here since October 5th, 2018!
Listen to their live performance here…
Quintessential purveyors of minimal vocal jazz
Erik Leuthäuser discovered Dean Wilson's first volume of poems in a bookshop in London and introduced Arta Jēkabsone to his work while they were recording in New York. They instantly fell in love with the simple, funny, emotive words and decided to write a song using a poem as lyrics and adding their beautiful voices and sparse, clever instrumentation. One song became three, which became ten and, now, here we are.
Poems written by a man from Hull on the beaches of the East Yorkshire coast, found in London by a German and a Latvian New Yorker have become an album of gorgeous, touching songs.
Erik and Arta have never met Dean. They've never even spoken a word to each other. These songs say all that is required.
BeachFinds is available here…
Click here to watch the music video "Blue"
Arta Jēkabsone debut concert program  "Light"
"Light" holds the vibration of light as a feeling and each person's inner light. It is Arta's thought process and inspiration that has been captured together with young, talented and in the NYC jazz scene actively working musicians. Arta considers these musicians as her NYC family – piano Theo Walentiny, bass Nick Dunston, guitar Lucas Kadish, drums Connor Parks. The main message is "light" as a means of expression in music and in nature that is very dear to Arta.  Also "light" is used as a metaphor for human beings and their energy, that they share with the world; dreams; and also, homesickness.  The purpose of this music is to find the light within each other while being a part of this musical journey.  Then the ability to share the light with each other. To live in a moment, while listening to the lightness and the stories that the musicians are creating and sharing with each other.
Recent CD project releases featuring Arta Jēkabsone :
Kenta Shimakawa's debut album "Glimpse" as a leader, featuring an aggressive and colorful blend of metal and jazz performed by a cast of musicians from around the world.  Arta Jēkabsone is featured on the Dunuyeah Pt.1 & Dunuyeah Pt.2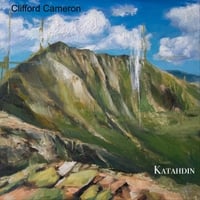 Clifford Cameron's debut album " Katahdin" is Narrative driven, through-composed and improvised chamber music, influenced by Jazz, Folk, Celtic and Classical music, performed by a group of young professional New York-based musicians.